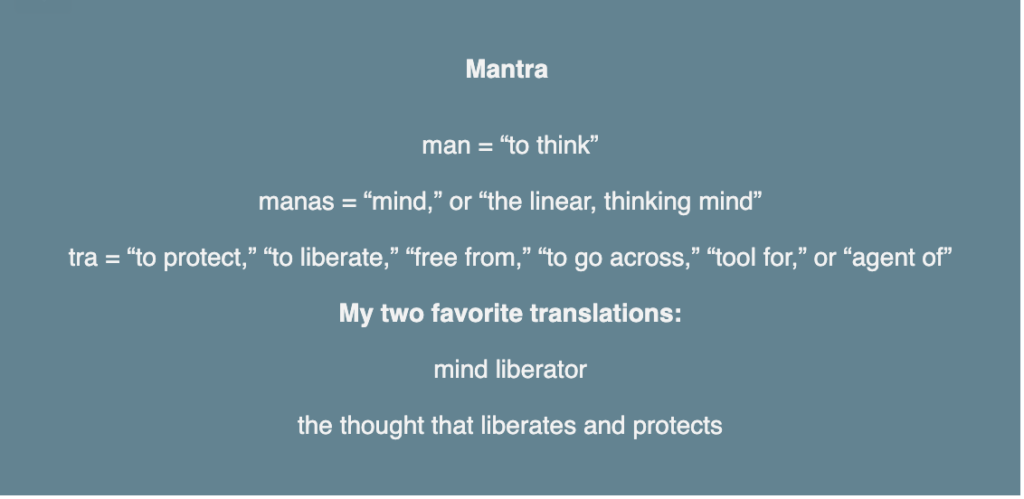 How do you feel about mantras?

Here's the thing about mantras…

Every person has their own versions of them.
Sometimes it's a prayer.
Sometimes it's motivational self-talk.
I view them as a personal deal you make with yourself that helps me hold my boundaries and stay focused on my chosen path.

It's a decision.
It's a message that says to the world and to yourself that the vision you have is important to you.
It's a sign that you are committed to moving forward.
When it comes to creating habits and practices that you stick to for the long term, you need a mantra to keep you motivated, focused, and moving forward.

Consistency and focus can feel incredibly difficult in today's world.
We have a million things pulling for our attention.
We have the people in front of us: our families, coworkers, employees, clients, parents, friends.
We have emails, social media, zoom meetings and an increasingly digital world designed to keep us looking at our screens.
We see all the different "hacks and tips and tools" that help us "get there faster" and all the experts saying do this, not that.
We get bored and expect faster results, we give up too easily and want to change lanes because when our brain registers something new and shiny it gives us a hit of dopamine. We can literally become addicted to distractions. (Hello, candy crush or any game that gives us a free flow stream of dopamine on our smartphones)
Knowing this, we can better understand why it is so important to stop constantly turning outward for inspiration and motivation and use tools like mantras to bring us back inward and remind us of what is important.
Iain Thomas sums this struggle and solution up perfectly:
And every day, the world will drag you by the hand, yelling, "This is important! And this is important! And this is important! You need to worry about this! And this! And this!" And each day, it's up to you to yank your hand back, put it on your heart and say, "No. This is what's important.
Here are some examples of mantras I have used for myself and my clients in the past that you may find helpful:
I choose where I spend my energy and I spend it wisely
I stay in the day, one day at a time
High Intention, Low Attachment (personal fav that helps me stay productive)
Write it down somewhere you will see it everyday.
Read it.
Say it out loud.
Whisper it to yourself.
Feel it.
Embrace it.
Whenever you are feeling like you want to give up on a new habit or practice, return to your mantra. Your prayer. Your personal cheerleading statement.
You've got this. We've got this.
Say it to yourself three times and notice how the anxiety fades when you realize the key to getting consistent and achieving your goals isn't outside of yourself.

Have a great week!

P.S. Feel like mantras are a little too "out there" for you? Here's a great article from the Wall Street Journal on One Habit that Will Make You Happier Today that talks about research on the topic.