Are you looking to become an influencer or leader within your niche?
Before you commit to this path and read the rest of this article – I want to ask you to check your motives + understand what I mean when I talk about being an "influencer," a "leader".
A leader is someone who embodies the work that they teach, are willing to be teachable and are passionate about serving others through their authentic, holistic purpose.
If you are cool with that, keep reading!
If you are just in it because you think it looks good externally, keep going – this is not the article for you:) …
There are some traits that a good leader will have to have in order to be successful.
You can pass on knowledge to your followers and they will learn from you and see you as an example of who to become.
You can inspire them to reach goals and exceed what they thought they were capable of. You can encourage others to break down the barriers of success.
You can actually improve your niche by taking on a genuine leadership role for your followers.

Here are a few secrets that will make you a good leader and stand out from others in your niche.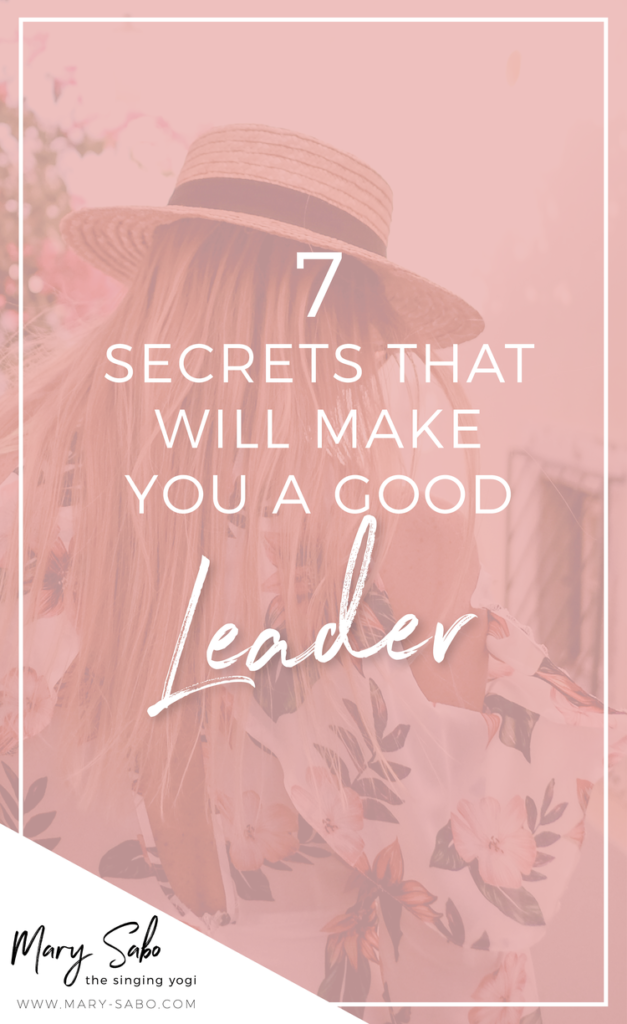 7 SECRETS THAT WILL MAKE YOU A GOOD LEADER
You have to be a good listener.
You'll need to be a good communicator in order to be a good leader.
You'll have to be able to listen and stay focused during a conversation. Keep the lines of communication open.
People will need to know that they will get recognition for the things they do. Be their biggest cheerleader.
Be the mentor and role model your audience needs.
Don't just preach, be a mentor. People want to know how they can find their path and do better in life. You'll need to mentor them as a good leader. They will need guidance and support.

In order to be a good leader, you will need to exemplify the behaviors that you are encouraging in your following. You'll be admired for walking the walk and talking the talk as cliche as that may sound. You have to be genuine, from the very beginning.
Come from a place of love.
Love the people you serve in your business and love what you do.
This is a core part of being a good leader. You should have a passion for helping others and it needs to come from a good place within you. Always come from a place of love.
If at any time you have bad intentions or are just seeking money, people will see right through you. There are so many scams online that people know what to look out for.
You need to be genuine in your desire to help others within your niche.
Show your passion.
You'll need to have a genuine passion and enthusiasm for the projects your group members are working on. You have to let them know you care about their progression. If you don't care about the goals of the group, they won't follow your leadership.
However, don't just focus on the task at hand, look at the big picture. Make sure you use your leadership in ways to help others and get creative in doing so. Bring something new to the table. You may work within a certain niche but that doesn't mean you can't do things differently.

You'll need to inspire your followers to be a good leader. You need to encourage them to take action and follow through with projects. You can help them focus on ideas or goals, offer recognition, and reward accomplishments. Encourage people to not just research and learn, but implement what they are learning and grow.
Create a space for collaboration and teamwork.
Leadership does not mean just acquiring power. You'll be using your time an energy as a good leader for collaboration with others. Support success for everyone you know. When you succeed, everyone does.

Welcome ideas and feedback from the people you serve. Let them know you appreciate it and implement it when it is useful.
Establish your values and convictions.
All of your actions show who you are as a good leader. Your expression of your value shows others your beliefs in action.
If you establish your values, convictions, and let others know who you are, they can't help but follow your lead. You are a unique individual and leave your signature style on everything that you work on.
Be creative and encourage creativity.
Transformational leadership comes from intellectual stimulation. Followers will express their creativity and this should always be encouraged.
Good leaders give new challenges to team members like these. You'll also provide support. The challenges that you offer will have goals that let your team know what they are capable of. They will break down barriers.
Always get people to test their limits while not becoming discouraged.
---
If you looking to become an influencer or leader within your niche, these are some traits that a good leader will have to have in order to be successful. You will be able to pass on your knowledge to your followers and they will be eager to learn from you, from both your success and mistakes. These are secrets that will make you a good leader both now and in the future. Being an influencer is more than just status and money, if you do it correctly you'll be changing lives.