Imagine a strong, powerful leader. That person doesn't exist in a vacuum. A leader is only in their position because they are guiding other people. You need people to lead to be a leader! It doesn't matter what you're leading, from a yoga class to a board meeting for a multi-million dollar company, your role depends on the people around you. It's simply not possible to gain the necessary skills and experience needed to be a good leader without people, whether that includes mentors, employees, colleagues, and more.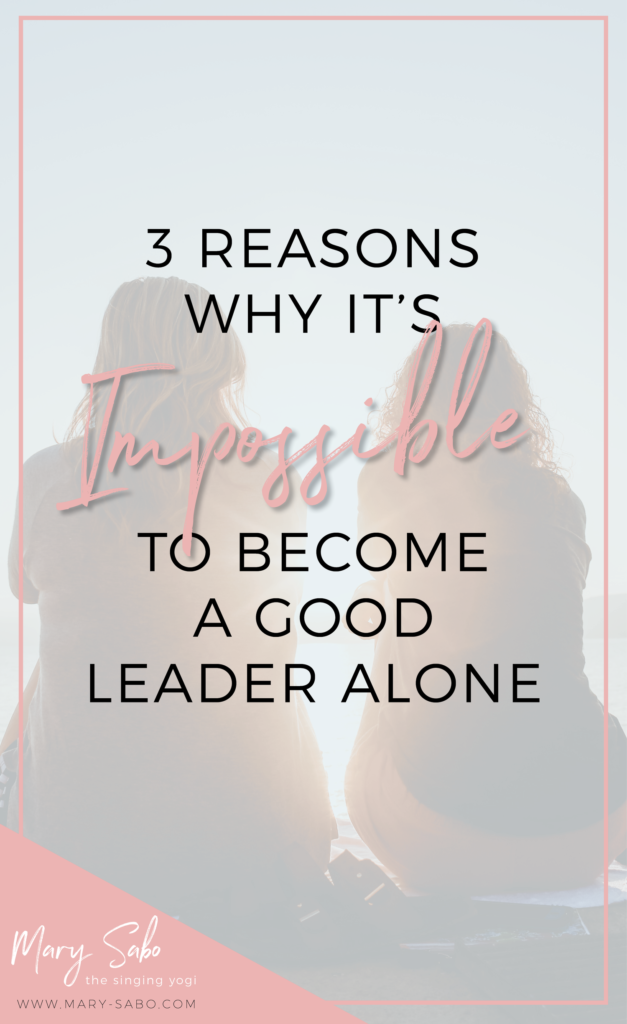 3 REASONS WHY IT'S IMPOSSIBLE TO BECOME A GOOD LEADER ALONE
There are many things you can do alone. Becoming a good leader isn't one of them. While there are some important tasks to the journey, like taking the time to recharge yourself even as you take on increasing responsibilities, there are others that require the participation of other people. It's difficult to bounce ideas off your own mind. In a community of other people, you can finally take the step to become the person you want to be!
1. Other People Offer Valuable Assets
First and foremost, it's crucial to recognize that other people can bring valuable skills to the table. Part of being a good leader is the ability to recognize people's strengths and weaknesses. Once you know what your employees excel at, you can delegate tasks effectively.
Being a good leader does NOT mean that you are the best at everything. Sometimes it means identifying someone who has an important skill to contribute. Praising this person as an expert, learning from them, and encouraging them will benefit you and the staff as a whole. Effective management isn't about tearing your team down; it's about building your people up.
2. Feedback is Vital to Growth
People who have risen to leadership roles don't simply step into the role and stop learning. You want to keep improving and moving forward! Life, and leadership, isn't about staying stagnant. Growth is essential.
A key part of growth is receiving and analyzing feedback. Encourage feedback from everyone, including and especially people you manage. You want to not only be an empathetic listener to their thoughts, which will strengthen your team and keep employees content, but you can also use their constructive criticism to improve your own management style and tactics.
No one wants to be surrounded by "Yes" Men or Women. Encourage honest feedback in your workplace, schooling, volunteer work, and other organizations. This will strengthen your relationships, give you the chance to improve your skills, and ultimately make you a better leader.
3. A Network Can Connect You
A good leader truly connects with their audience. Think of historical figures that are always used as examples of strong leadership. Usually, these people were able to capture the attention of a crowd with powerful rhetoric. Today, speeches are still important, but the ubiquitousness of technology has made social media, blogs, and online content more important than ever. You can connect with far more people than ever before with some simple swipes of a keyboard.
Technology gives you an incredible opportunity to develop a network of influencer to reach more people! If you are creating content that engages your audience, they will like and share it with their audience — expanding your reach through organic growth. As you become an influencer in your space, other people are going to vouch for your credibility and expertise. Start building that network today with personal, on-brand content! The sooner you start connecting to your fans, the bigger you can grow your followers.
When it comes to becoming a good leader, no one does it alone. Behind every great leader is….coworkers, staff, mentors, friends, former supervisors, interns, a whole community of people that have helped shape the leader's skills, management style, and leadership abilities. Stop distancing yourself from people! If you want to take on a leadership position, now is the time to connect.
There are some steps you can take alone, such as a thorough personal inventory of your goals. There are other steps that require the participation of other people, such as teaching you new skills, giving you constructive criticism, and expanding your network. Don't belittle the importance of other people in your journey to increase responsibility in your company or community. They are essential to helping shape the skills and growing your sphere of influence as you become a leader in your space.
---
That's it! I've listed 3 reasons why it's impossible to become a good leader on your own. How have other people impacted your journey to leadership?